Landscaping & Irrigation Services Since 2005
The staff at Ground Level Landscaping have many years experience and throughout the years, we have been able to compile an expanding list of services to our clients. Ground Level Landscaping has been a full-time, full-service landscaping and irrigation company since 2005.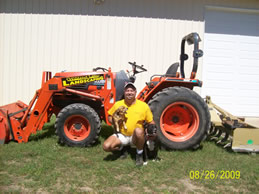 Having been born and raised in the Grand Traverse area, our employees are fully aware of the beauty of the region that is apparent day in, and day out. That is why we treat every job like its our own personal project. The Northern Michigan region deserves every bit of care that we can offer to make it one of the most beautiful places in the world.
The Ground Level Landscaping crew has well over 20 years of experience with both landscaping and irrigation systems. We provide Design, Install and Repairs on all makes and models plus spring start-ups and fall winterizations to keep your current or brand new system up and running efficient in every way. Install of new mulch for your flower beds or just need new shrubs or trees to set off that curb appeal we here at Ground Level Landscaping can help you along the way. When that project is done we accept all kinds of payments to make it easy on the homeowner whether through cash, check, Mastercard or Visa.
It is our goal to keep the beauty and integrity of this area alive and well. Everybody has a little part of Northern Michigan in us, and it is our goal to make your part a little more beautiful.
"Landscaping and Landscape design will always be a very fun part of the my job. To work with the home owner and pick what color or kind of mulch to go with colors and kinds of either plants or shrubs will always set off that accent of your yard or house. Here at Groundlevel landscaping we always put down a weed barrier that will help keep about 90% of the weeds out of any beds. Then the mulch or ground cover of choice followed by the trees or shrubs with the fertilizer. After that is taken care of you have to make sure there is plenty of water to go along with all that and will have many years of beautiful flower or plant beds. We here at Ground Level Landscaping know all to well that summers are short here in the Grand Traverse Region and you need to enjoy it as much as possible so let us handle all the project list that you have made up and enjoy the sun and weather here in Northern Michigan."
-Mike Watkoski (Owner)